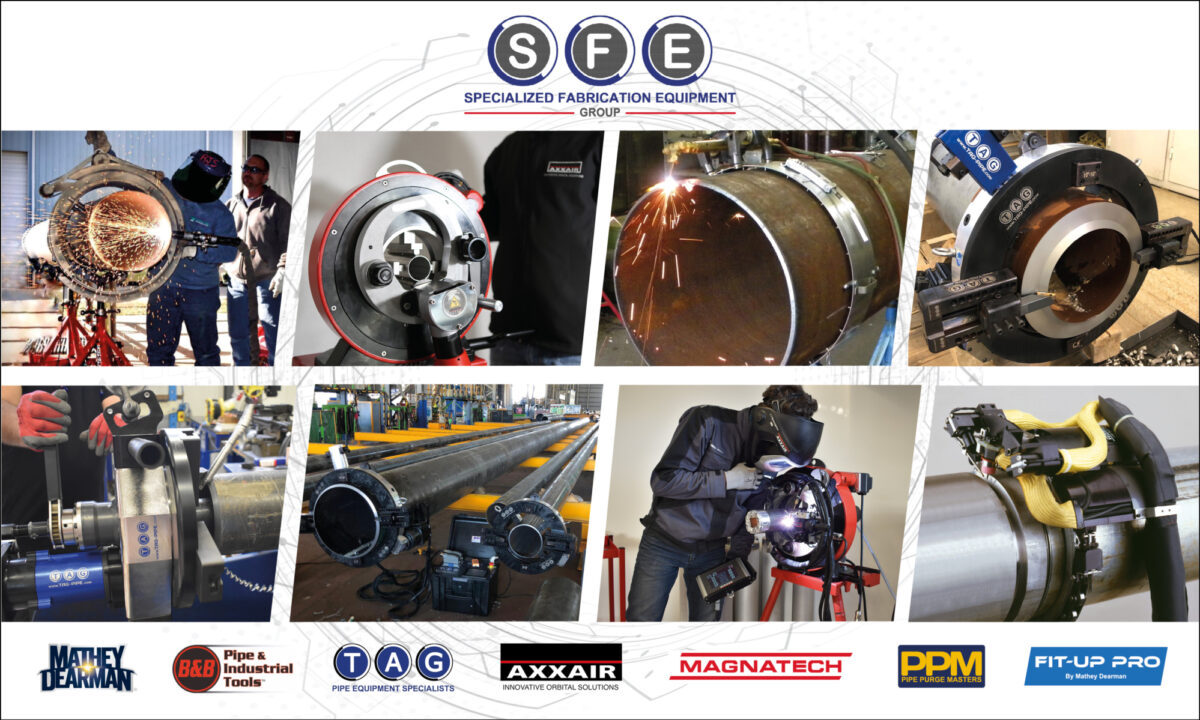 About S.F.E. Group (Specialized Fabrication Equipment Group)
The S.F.E. Group was founded in 2019 after the merger of three world leading manufacturers of pipe fabrication tooling and machinery: B&B Pipe and Industrial Tools LLC (USA), Mathey Dearman Inc. (USA) and TAG Pipe Equipment Specialists (UK). In 2022 the S.F.E Group has completed the acquisition of the AXXAIR Group (France).
Being an OEM, the S.F.E. Group is offering a wide range of specialized fabrication equipment and products, divided by 6 leading brands in the industry:
• Mathey Dearman: pipe flame cutting and bevelling equipment, pipe alignment and reforming clamps and pipe rigging equipment
• B&B Pipe & Industrial tools: pipe jacks and stands and material handling equipment
• TAG PIPE: pipe cutting and bevelling equipment
• Axxair: orbital cutting and welding equipment
• PPM Pipe Purge Masters: pipe purging equipment and measuring devices
• Fit Up Pro by Mathey Dearman: pipe fit up and alignment tools, layout and marking tools
The S.F.E. Group has its main offices in the United States and France and has regional offices in the United Kingdom, Germany, Saudi Arabia, United Arab Emirates, India, Vietnam, China and South Korea.
Besides being present on 4 continents, the S.F.E. Group also prides itself on its extensive network of selected and trained local partners, providing regional know how, product availability, machine demonstration and training capabilities as well as service and machine rental solutions.